Bi-fold door hinge setups usually have one type of hinge from the frame to the first panel and a different hinge between bi-folding panels (this will often have two versions one with a handle and one with out) plus a third type this is a hinged wheel and guide setup on the top and bottom of the second panels leading edge and if there's a third panel attached to this then the wheel and guide hinge is different again. (See below Hinge – Wheel or guide setup)
As with standard hinge doors aluminium hinges can stretch causing the door panels to drop out of square plus they can just break from fatigue we carry a number of common replacement hinges and have access to many others. Often for older joinery a manufacture will no longer be producing your hinge but with 20 years experience we will have a replacement option for you.
Hinge – Wheel or Guide Setup: as bi-fold doors have evolved the wheel and guide systems have changed which has created a large number of different systems plus with this is the options available per type depended on the number of panels involved in your door setup. So with all these different possibilities it will often require more than one visit to sort out your problem door if it requires more than just an adjustment. As stated above we carry many common hinge types and have access to many more this includes hinge wheel and guide setups.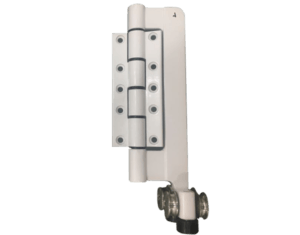 Flush bolts are used on both bi-fold and French door setups and have been for a number of years. They can come in a number of different versions of which we normally have with us. As they age they can stretch and/or unadjusted and start jamming if this happens don't force it there is usually two bolts one at the top and one at the bottom if ones not working just lock up with the working one and give us a call often its just a matter of adjustment.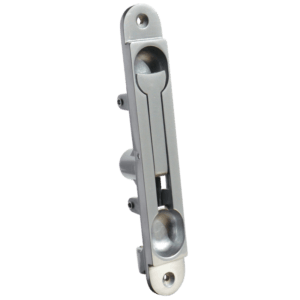 Door seals (Felts or Rubber seals)
Whistling noise and leaks from around doors can be caused by worn or missing felts or rubber seals. We carry many different types of mohair felts and rubber seals to solve these issues. This is a common problem and the repair process for this is trial and error so a remedy cannot be guaranteed however with years of experience we can usually come up with a solution more often than not first time. (Please refer to our Warranty page)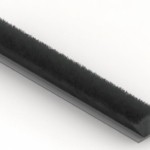 Bi-fold door maintenance is much the same as most doors taking a common sense approach keeping the bottom channel/sill clean and the drain holes unblocked. You can spray the hinges with WD40 wipe off over spray or a very light oil but remember that after a while you will get a black residue seeping out from the hinge so wipe this off as it's not good on your clothes. The wheel setups should be lubed with silicone spray as oil based products attract the dust which gum the wheels up. The door lock mechanism that's the tongue that comes out of the edge of the door can be lube with WD40 or Silicone spray. If you have a wooden bi-fold door, take care not to stain the timber of the door during this process. Don't use WD40 or similar on lock cylinders use silicone spray or graphite.

Do you need help with a window, lock or bumpy sliding door? Fill out this form to get in touch.