Heavy, Bumpy Jamming or Grinding Sliding Doors are no fun and are easily fixed click here for price file download to get average price to replace sliding door wheels. We specialize in wheel replacement carrying over 40 different types of wheels. We are the one stop fix it shop too your door.
If the door is dragging or not sliding smoothly the wheels need to be replaced promptly. If left then the track becomes damaged and if this goes on to long it can become a major problem. (See sliding door tracks below) Most people say they don't know why they waited so long to get the door fix because it works so well now? Once the wheels are replaced the door will sit in the right position which makes the lock work better and can cut down on drafts and heat loss etc. (See draft seals below)

Commercial Sliding Door Wheel replacement in retail stores is often done outside normal working hours just call to arrange this. It is often a two man job because of the share size and weight of some door panels. We carry some and have access to many different types of commercial sliding door wheels. Commercial joinery is made of heavier gauge aluminium with its extrusions being much larger in size than residential joinery which allows for larger and more robust wheel setups to be used.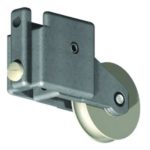 Sliding door track damage can happen for different reasons but replacing it is possible. Some doors have removable tracks most modern sliding doors do, which can make things a bit easier other wise, especially on older joinery the damaged track must be cut out before a new one can be installed. A new track can give older doors a new lease of life and is more economical than a replacement door by a long way.
A sliding door track cap is another option to repair a damaged track but only works on a track that is dented in places or has been ground down in some spots but not in others as it is only a cap and needs support under it so it won't replace a track that has been ground down for half its length but will definitely smooth out a bumpy track. This system is cheaper than replacing a track.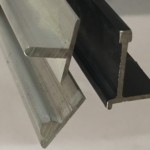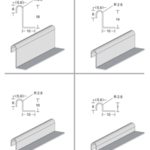 Sliding Doors also have felts (mohair draft seals) which keep draft and water etc out plus help keep the moving door panel on its track and can make the sliding action of your door a lot smoother we carry a comprehensive range of replacement felts so again we can sort it out first time. Replacing felts also helps stop heat loss so saves you money and can stop whistling noise from around the door panels. (Please refer to our Warranty page)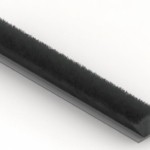 Hydraulic Sliding Door Closers
These are now available for sliding doors the sliding door they are fitted to must slide free and smooth for the door closer to work properly.
Very simple is cleaning out the sliding door track with the crevice tool on your vacuum cleaner this gets rid of all the grit etc that wears and jams the wheels. You can lubricate your door, we have found that silicone spray is the best, we use a can you can spray upside down which is useful to get along the bottom of a door. Don't use WD40/CRC or similar as it attracts dust causing a build up around the wheels and jamming them.
Do you need help with a window, lock or bumpy sliding door? Fill out this form to get in touch.